Saturday
With lots of speaking sessions throughout the day and across the site, including the village, great entertainment and live music into the night.
Radical Cinema
In the Village
NASUWT Kids Area
POA Hike
Martyrs' Marquee
Rear Garden Organise Tent
Tolpuddle Fringe
UCU Tolpuddle International Tent
UNIZONE
Unite Marquee
Tolpuddle Talent – open mic sessions
Martyrs Marquee Night Music
---
Radical Cinema
Short Axe Films throughout the programme
11.00 – The War Game • 1966 • Dir: Peter Watkins • 48 mins
13.15 – Tangerines • 2013 • Dir: Zaza Urushadze • 1hr 27min
14.30 – Waltz With Bashir • 2008 • Dir: Ari Folman • 1hr 30min
17.55 – Come And See • 1985 • Dir: Elem Klimov • 2hr 16min
20.30 – Oh, What A Lovely War • 1969 • Dir: Richard Attenborough • 2hr 24min
---
In the Village
Village Trail
11.00am and 1.00pm
Guided walks through Tolpudddle, Meet at the statue in front of the Main Stage.
Village Hall teas 2-4pm
---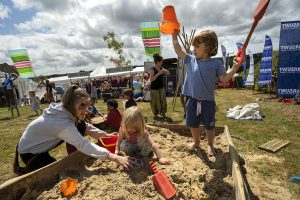 The NASUWT Kids Area is the perfect place for children to play, explore and have fun. With lots of activities to keep children of all ages happy and entertained all day long. 
Plotgate crew will help you make your own delicious Pizzas using produce from their organic community supported agriculture farm.  
Woodcraft Folk provide an amazing range of exciting crafts and collaborative games for all ages to enjoy.

Drum It Up bring high energy drum circles and rhythm games.
With dizzyingly daft and dangerous stunts, Wolly the clown will amaze and delight children and adults of all ages, afterwards improve your own clowning skills with Wolly's circus skills workshops. 
Have a go at HapaZome an ancient Japanese art of transferring the natural pigments from leaves and flowers onto fabric or paper to create a botanical image by bashing them with a mallet!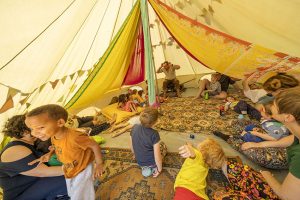 Join The Big Cardboard Build and let your imagination and creativity run wild.  
This year our storyteller Amy Douglas is a word-hoarder, a word-storer, a word-catcher and a word explorer.  She likes hide-and-seek, jumping in puddles, getting muddy, treasure hunts and has a favourite tree where she likes to sit with a book and an apple.You will find her in the bell tent telling her beautiful tales and when she is not around, she very kindly leaves a lovely chill-out space to shelter from the sun. 
The BearCat Swap Shop is bursting with a staggering array of clothes, toys, knick-knacks and lots more. Bring something along to swap to get something new to you or give a donation.

Don't forget to get your face painted for free by the amazingly talented artists from Diamond Faces provided by NASUWT who also sponsor theTolpuddle Kids' Area every year!  
So, come along, have fun, make some noise be part of this year's Kids Area!
POA Hike
10.00
Catch the bus from Tolpuddle to Dorchester and walk back.
---
11-12.15
Winning solidarity at work
Chair Hannah David South West TUC Chair and PCS Vice-President Kevin Rowan TUC Head of Organisational Services and Skills Department Mick Lynch RMT General Secretary Joanne Kaye UNISON South West Regional Secretary Dave Chapple South West Trades Union Councils Rep Trevor Stephens Community rep at Clarks
SPEAK OUT Tim Lezard invites stall-holders to say a few words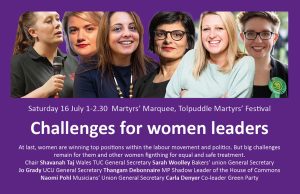 1-2.30
Challenges for women leaders
Chair Shavanah Taj Wales TUC General Secretary Sarah Woolley Bakers' union General Secretary Jo Grady UCU General Secretary Naomi Pohl Musicians' Union General Secretary Carla Denyer Co-leader Green Party
3-4.30
Cut carbon not public transport
Chair Hannah David South West TUC Chair and PCS Vice-President Mick Lynch RMT General Secretary Mick Whelan ASLEF General Secretary Kamaljeet Gill TUC Carla Denyer Co-leader Green Party Tan Dhesi MP Shadow Railways Minister
---
Rear Garden Organise Tent
10.30-11.30
Get back to your desk – organising remote workers
Chair: Stéphanie Kasprowski Unite Fern Heathcote PCS President
12.00-1.00
Protest and the state
Morag Livingstone/Matt Foot authors of Charged Dave Smith Blacklist Support Group Bruce Murphy Extinction Rebellion Trade Unionists
1.30-3.00
ARISE! Education for Action
Jane Holgate and John Page Ella Baker School of Organising lead a workshop session
3.30-4.30
Organising precarious creative workers
Chair: Ian Manborde Equity Equalities Officer Paul Fleming Equity General Secretary Naomi Pohl Musicians' Union General Secretary Dawn Hope Equity member and actor on Hollyoaks and Gareth Spencer President PCS Culture Group
---

10.30-11.30
The Battle for Employment Rights
Chair Nick Ireland South West TUC Vice-chair and USDAW Regional Secretary with Barry Gardiner MP Kudsia Batool TUC Head of Equalities and Strategy
12-1
Cost of living crisis 
Chair Nick Ireland South West TUC Vice-chair Paul Nowak TUC Deputy General Secretary Kay Timbrell USDAW retail rep Tanya Palmer UNISON South West Regional Manager Jenny Lennon-Wood and Philip Marfleet launch of Forgotten Towns and coastal towns, report into Weymouth, Portland
1.30-2.30
Future of union education and learning
Chair Alison Foster South West trade union education coordinator Carl Roper TUC Kevin Rowan TUC Head of OSD Kerry Baigent UNISON South West Senior Manager for education Lilian Greenwood MP
2.45-3.45
Breaking down the race barriers
Chair Shavanah Taj Wales TUC General Secretary
Michelle Codrington-Rogers NASUWT Honorary Treasurer & Member of the Anti-Racism Taskforce Kudsia Batool TUC Head of Equalities and Strategy Rhoda Dakar and Reps from the South West Black Talent Programme
4-5
Ukraine: Fighting on the military and trade union front
Chair Hannah David South West TUC Chair and PCS Vice-President Serhiy Guz Ukraine Independent Media Union
---
UCU Tolpuddle International Tent
10.30
International fascism and its legacies for today's right-wing politics with John Foot University of Bristol
11.10
Justice for Colombia
11.40
Buses or bombs? The next decade of droneswith Michael Carley University of Bath
12.15
War on Want with Jackie Simpkins
1.00
Is it the duty of ethical hackers to crash Russian trains? With Denis Nicole University of Southampton
1.40
Myanmar Military: Never in Fashion with Khaing Zar Aung President of the Industrial Workers Federation of Myanmar, Executive Committee member of the Confederation of Trade Union Myanmar and a member of the Myanmar Labour Alliance. Organised by No Sweat
2.20
Solidarity with Palestine Palestinian Solidarity Campaign
3.00
Hong Kong – my story with Chiu-Wai Chan former Hong Kong TUC
3.40
20 years of labour rights campaigns online: the LabourStart experience – Eric Lee and Derek Blackadder
4.20
Workers and the new right-wing politics with Joanna de Groot University of York
---
Unizone
11.00
Sign language taster session
12.30
Experiences of disabled members in the workplace. Exploring solutions
Misconceptions Quiz
1.30
Young workers
A school-age teenager talks about their experiences and what would they like to see when they start in the world of work.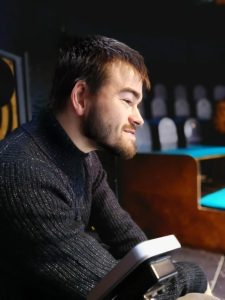 2.00
The Shouting Mute Dave Young, an inclusive poet, theatre-maker and activist
3.00
Sign language taster session
4.00
This is going to hurt
The ups and down of life in health and social care with doctors from the BMA, midwives, UNISON and other reps share their experiences for good and bad.
---
Unite Marquee
In its new location at the bottom of the slope, the Unite stall will host a menu of discussions and music.
11-1
Birmingham Clarion Singers will perform a rendition of Rob Harper's 'Asbestos Song'.
Focus on members' services, including the work of Unite's legal team in support of Thompsons Personal Injury Unit and asbestosis mesothelioma as an example
1.05-2
The migrant workers' story — the rise and fall of the Gangmasters' Licensing Authority
Chair Amanda Campbell Unite Landworker Editor; Emiliano Mellino investigative journalist; Chris Kaufman ex-Unite national officer; Kristjan Bragason EFFAT
2.45-4
Climate Change and Food Production
Chair Amanda Campbell Unite Landworker Editor; Bev Clarkson Unite national officer; Steve Leniec Unite agri sector chair and farm worker; John Burbidge Unite rural campaigner and farm worker; Gareth Lowe Unite regional officer and Sue Longley IUF general secretary
5.00
The Skimmity Hitchers
The self-styled 'denizens of Dorset and weirdos of the West Country' with songs dedicated to cider drinkers and badgers everywhere. Bring your badger suits and dancing shoes.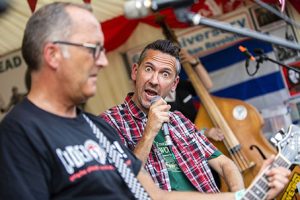 ---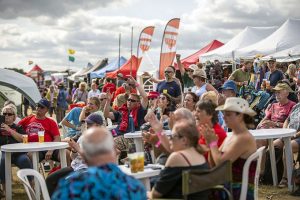 Tolpuddle Talent – open mic sessions
No advance booking – get your name on the board
12 noon – poetry
1.00pm-4.30pm – music
19.00
Tolpuddle unplugged
Acoustic session with Steve White
---
Music in the Martyrs' Marquee

Jack Valero  
Former frontman of The RPM's Jack has come a long way since playing his first gig at a youth festival in Dorchester with Teenage Wasteland. Now based in Brighton and signing songs that mix emotionality with a bit of social commentary Jack is coming home to Dorset to showcase his latest work.
www.facebook.com/JackValeroMusic/
Cosmic Ninja
Cosmic Ninja are a queer-fronted, four-piece band who never fail to leave an impression with their fusion of rock, alternative and electronic sounds. A hard-core, anti-establishment blast that will go down a storm.
The great American radical singer/songwriter, David Rovics makes a welcome return to Tolpuddle.
davidrovics.com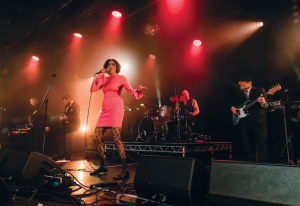 Rhoda Dakar 
Best known as the lead singer of The Bodysnatchers, who were signed to the 2 Tone record label. In 2015, she released what has been hailed as "the lost 2Tone album", where she sings The Bodysnatchers', and many previously unrecorded tracks. In 2018, The LoTek Four, Vol I EP was released featuring her regular band playing live, all together and vibing off each other. It has a great old skool feel; wonderfully mixed with Ska/Reggae and dubbstep, with some jazzy undertones and a nod to blues dance. An in-demand DJ, Rhoda is sure to bring her eclectic musical taste, with a sprinkling of the unexpected, to Tolpuddle.
https://www.facebook.com/rhodadakarofficial
https://linktr.ee/rhodadakar?fbclid=IwAR3vjjnMy85xNXZ28qzo7Dj2-yOpKemWE4QUgBEyHLM_QayAWcbOnhWxxLo