Booking for the Weekend
Prices to attend the Festival vary and depend on when you will arrive, whether you will camp or bring a camper van, stay in local accommodation or just come for a short day visit. We also offer discount rates for children, with free entry for children under five.
The Tolpuddle Martyrs' Festival isn't run like a commercial festival and relies upon lots of volunteers and the generosity of unions and allies. It doesn't make a profit and the TUC covers the deficit. In commercial terms, the festival will never be financially viable and the more successful it has become, the more costs have risen. So that we can help cover some costs, there is a modest fee for both the Friday and Saturday. You must have a valid entry wristband to enter the Friday and Saturday.
Buy your tickets here – don't forget to include your camping and parking passes, which need to be purchased separately.
The traditional Sunday Rally Day is open to all. The only cost is collected at the car parks – £15 per car.
Please respect the Festival and safety of the local community by using the car parks. We will work closely with villagers to prevent people from parking on the narrow lane verges.
Festival entrance wristbands
Festival tickets and camping passes will be available for sale on the online shop from 1 April. For 2023 this will go over to e-ticketing you will receive your order via the email you ordered with and you will show on your phone or a print at the check-in desk where this will be exchanged for wristbands, parking, etc.
Adult Weekend Festival pass: £55 per adult
Children (age) 5-15: £5
Children under five: Free
Friday only festival pass: £22.50 per adult
Saturday only festival pass: £37.50 per adult
Each transaction will incur a Booking Fee: £4.00
We will only refund cancellations made no later than 30 June – an admin charge of £5 applies.
Camping at the Festival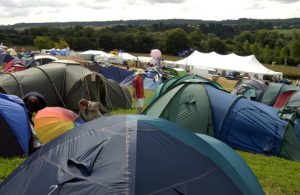 Please visit the ticket sales portal to buy your tent or campervan tags alongside your festival tickets. 
If you would like to camp on-site at the Festival, you must purchase a tent pass(es) and/or campervan pass in addition to your festival entrance tickets.
Tent Tag: £25
Campervan Tag: £55
We will only refund cancellations made no later than 30 June – an admin charge of £5 applies.
Spaces for tents and camper vans are limited and likely to sell-out.
 Advance booking is required.
Camping information
We cannot take late arrivals after 11pm, when the gates will be closed.
Vehicles are NOT allowed in the camping area.
We cannot accept caravans.
If you are coming in a campervan, you can also have EITHER space for an awning that must be attached to your camper van, OR space for a small 2-person tent next to your campervan. You cannot have both.
Trailer tents are allowed but these will be situated in the campervan area (You must purchase a tent tag and vehicle pass together).
Space is very tight. Camping pitches are allocated on a first come, first serve basis on arrival. If you wish to camp together as a group, please arrive together. Spaces cannot be saved and will be filled.
The Festival site offers hot showers and toilets.
For more information, download your Guide to camping at the Tolpuddle Martyrs' Festival.
The Fire Brigades Union have also produced a helpful safety guide for Tolpuddle campers. Download it here.
Parking at the Festival
Advance online prices are below. Please visit the ticket sales portal on the website to buy your vehicle pass. 
We will only refund cancellations made no later than 30 June – an admin charge of £5 applies.
This goes to fund the festival.There is no other entrance fee on the Sunday. It is shared with volunteers from the village who support the church and village hall.
Disabled parking
Organisers of the Festival retain limited spaces for disabled drivers to park their vehicles in the festival camping field. Please follow the signs and guidance from our stewards.
Sunday road closures
The main road through Tolpuddle will be closed to all traffic from 1pm to 6pm on the Sunday of the festival weekend.
Please arrive in time to use the car parks before 1pm.
Access to top field (Sunday main car park) is open until 1.45 p.m. but only if it is safe to do.
Access through the village after 1pm is prohibited due to the procession and march.
Please use the car parks and do not park on the main road or verges. If your vehicle is blocking access or escape, emergency services and/or other large vehicles and coaches may cause damage to your car. Should this happen, neither the Festival organisers nor the TUC can be held liable or responsible.
Respecting the village and festival stewards
We value the support and co-operation of all residents of Tolpuddle and the neighbouring villages. We work hard to ensure they face as little disruption as posisble especially through inconsiderate parking.
'No Waiting' cones and signs must be respected and parking fines will apply and be in force during the Festival.
Getting to the Festival
Directions on how to get to the Festival can be found here.
Prefer not to drive?
See information on local bus routes, train stations and Tolpuddle shuttle buses here.
Tolpuddle Radical History School
Thursday 14 July to Saturday 16 July
Open to all, the history school is a great chance to learn more about radical and trade union history. Running ahead and alongside the annual Tolpuddle Martyrs' Festival, it offers a chance to learn lessons from the past in beautiful, rural Dorset.
The theme will be PROTEST. The school aims to encourage discussion and thought and will have a wide range of professional historians, as well as enthusiastic amateurs, delivering talks on people and events that have challenged the status quo and advanced the interest of working people.
The history school will take place at the Festival site near the TUC Tolpuddle Martyrs' Museum, Tolpuddle, Dorset DT2 7EH.
Cost: £100 per person – book here.
We will only refund cancellations made no later than 30 June – an admin charge of £5 applies.
Camping is available in the Festival field – your tent or camper van, and car parking tickets can be purchased at the same time as your History tickets through our online shop.
For other accommodation options in the area, try www.visit-dorset.com.