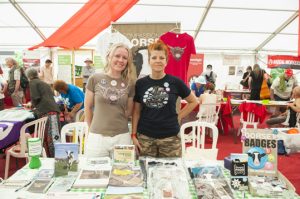 Stalls at Tolpuddle 
The Festival offers groups an opportunity to promote their campaigns. They reflect a spectrum of views associated with the broad labour movement and are not necessarily the policies of the TUC.
There is space for table-top stalls inside the large Martyrs' Marquee or for small gazebos outside. Numbers are limited and the TUC will select stalls that suit the festival and offer a balance of subjects. 
Applying for a stall 
The diversity of stalls adds to the enjoyment of the event and helps promote progressive causes. The Festival has limited space and whilst all applications received by the deadline will be considered, we are unable to guarantee a stall.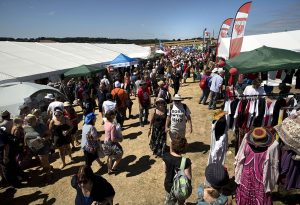 Priority is given to campaigns that are trade union-backed and fall within the TUC's campaigning objectives. The South West TUC reserves the right to refuse applications.
The decision of the South West TUC shall be final.
We will not accept stalls including materials that are designed to cause offence, are racist, inflamatory or overtly provocative. Any materials found or behaviour may lead to stall holders and their space being asked to leave the site.
Greening our festival has been a top priority for many years. We are determined to reduce the quantity of plastic waste, and non-recyclables at the festival and therefore urge all stall holders and applicants to consider the nature of any materials and giveaway items.
Stall fees for 2022 
Inside marquee: £105 (includes one stall space, one vehicle pass, one weekend entrance wristband)
Outside marquee: £160 (organisation to supply own 3×3 marquee. includes one stall space, one vehicle pass, one weekend entrance wristband)
The fees above do not include camping (tents or campervans, no caravans) passes. These must be purchased separately.
Additional entrance wristbands and parking passes can also be purchased through the Festival ticket shop.
Closing date for applications is Tuesday 31 March 2022.
You will be informed of the success of your application by letter which will give you details of how to pay to secure your booking.
Applications are not a guarantee of entrance to the Festival.
If you prefer to apply by post, please contact the TUC South West on [email protected] and 0117 947 0521 and we will send out a hard copy form.