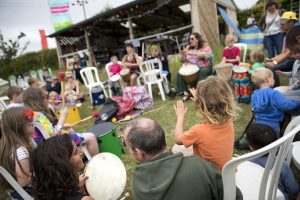 Situated in what was once the cottages' orchard, the NASUWT Kids Area is the perfect place for children to play, explore and have fun. With lots of activities to keep children of all ages happy and entertained all day long.
Plotgate crew will help you make your own delicious Pizzas using produce from their organic community supported agriculture farm.
Woodcraft Folk provide an amazing range of exciting crafts and collaborative games for all ages to enjoy.
Drum It Up bring high energy drum circles and rhythm games.
With dizzyingly daft and dangerous stunts, Wolly the clown will amaze and delight children and adults of all ages, afterwards improve your own clowning skills with Wolly's circus skills workshops.
Have a go at HapaZome an ancient Japanese art of transferring the natural pigments from leaves and flowers onto fabric or paper to create a botanical image by bashing them with a mallet!
Join The Big Cardboard Build and let your imagination and creativity run wild.
This year our storyteller Amy Douglas is a word-hoarder, a word-storer, a word-catcher and a word explorer.  She likes hide-and-seek, jumping in puddles, getting muddy, treasure hunts and has a favourite tree where she likes to sit with a book and an apple.You will find her in the bell tent telling her beautiful tales and when she is not around, she very kindly leaves a lovely chill-out space to shelter from the sun.
The BearCat Swap Shop is bursting with a staggering array of clothes, toys, knick-knacks and lots more. Bring something along to swap to get something new to you or give a donation.
Don't forget to get your face painted for free by the amazingly talented artists from Diamond Faces provided by NASUWT who also sponsor theTolpuddle Kids' Area every year!
So, come along, have fun, make some noise be part of this year's Kids Area!