MUSIC
---
Friday
Acoustic Stage
14.00 Steve Frapwell
| | |
| --- | --- |
| | Steve Frapwell is a laid back local musician from Dorset who enjoys mixing singing, rapping, looping and acoustic guitar to make nice melodies and tunes. Often putting his own spin and rendition on well known songs and merging songs together into melodies, improvising and free styling every show is different. Usually busking or pub gigging, this is Steve's first festival gig here at the Tolpuddle Martyrs Festival. He hopes we can enjoy the music together and create something special as a community. |
14.35 Millie Watson
| | |
| --- | --- |
| | Millie Watson is a singer songwriter based in Dorset. She uses her song writing to take the audience on a journey of thought-provoking emotions. Infused with folk, and sprinkled with soul, Millie's songs range from political foot stompers, to emotional ballads which claw at every heart string. |
15.10 Ben Reidy
Ben Reidy is a 17-year old Singer-Songwriter from Dorset. In July 2022, he released his debut album "be safe, goodbye", which has a central focus of acoustic guitar playing and personal lyrics about relationships and mental health.
His music and performances are heavily inspired by acts such as Taylor Swift, Ed Sheeran, The Cure and Arctic Monkeys.
15.45 Maxi Rai
| | |
| --- | --- |
| | Catch this wonderful singer-songwriter force of nature as she mixes guitar, voice and soul to create beautiful anti-folk storytelling. Her songs will make you dance, laugh and have all the feels. |
16.20 Mischa
| | |
| --- | --- |
| | Mischa delivers an energetic and compelling performance with his uplifting, socially charged originals taking you on an exciting voyage laced with messages of peace, love & unity… the revolution starts here! |

From 21.00 – Let's All Have A Disco DJ sets
 
Union activists who love to mix dance music, unions, football and beer. You

may have seen their 'memorable' take over the Friday night dance stage at

Tolpuddle last year. Or you might have caught their DJ slot at SoccerAid

alongside dance legend Paul Oakenfold or entertaining the fanzone as their

resident DJs for West Ham United home matches. If you tour the festivals,

you might have seen them at Shangri-La in Glastonbury, the Isle of Wight

Soul & Reggae weekender and Camp Bestival. They also specialise in

guerrilla gigs at picket lines and union conferences.

DJ Dollymix is an artist and art teacher, currently a member of Artists Union of

England (AUE) and previously NUT.

19.00 Babar Luck's East End Trinity
A decade on from their eponymous LP, East End Trinity have released four studio albums. Without bar codes, without asking the rock gentry for validation. Just making great Rock/punk/groove their own way.
Their trawl of the urban rock soundscape successfully uncovers nuggets of punk fury and streams of gritty realism with a nod to their key influences, Crass, Fugazi, Bad Brains, Buzzcocks Funkadelic and Television, Velvet Underground all delivered with great uniqueness, precision and positive energy.
20.15 Dr Splink
Dr Splink are a 5 piece performance act coming from the South West. Playing an original blend of ska, reggae, and funky punk.
They have been favourably compared to The Blockheads, Madness, Dr Feelgood and The Stranglers."Dr Splink are one of the most fun bands you will ever see. They are a treasure of the South West music scene" – Andrew Knutt CIC Centre, Taunton.
21.30 Deux Furieuses
| | |
| --- | --- |
| | Deux Furieuses are Scottish vocalist/guitarist Ros Cairney and Greek/London drummer Vas Antoniadou. Two rebel soul mates on a mission to comment on the world around them. Their uncompromising politically charged rock was championed by Radio X's John Kennedy whose enthusiasm caught the attention of Frank Turner and led to the band signing to Xtra Mile Recordings. The duo recently released third album Songs From Planet Earth with UK tours supporting US punk band War On Women and label mates Skinny Lister to great reviews. The release of lead single 'Bring Down The Government' led to the resignation of Boris Johnson later that week. Probably. |
22.45 Emmanuel Jal
| | |
| --- | --- |
| | Rapper, singer, actor, activist, and public speaker Emmanuel Jal overcame grave dangers and adversity growing up to become a world-renowned talent. He escaped life as a Sudanese child soldier and began making music in the early 2000s, cultivating a specific brand of hip-hop that reflected his political and spiritual beliefs. Over the years Jal would collaborate with stars such as Nelly Furtado, Peter Gabriel, and RUN D.M.C.'s Darryl McDaniels, bringing messages of peace and enlightenment to albums like 2008's War Child and 2014's The Key. He also collaborated with his sister Nyaruach on Juno Award-nominated 2018 album Naath. |
---
Saturday

19.00 Tolpuddle Unplugged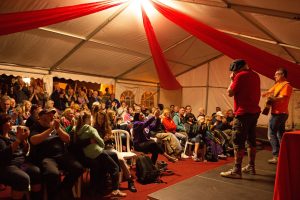 Tolpuddle Unplugged is the festival's best kept secret.
Nobody knows quite what will happen in the Fringe Tent on Saturday night, not even the hosts of this stage with no PA, no lighting and no running order but something special always does, as headline acts from other stages mix with walk-ups and festival regulars to perform completely unplugged to an audience prepared to expect the unexpected.
You never know who might turn up to sing a song or two.

19.00 Naomi Bedford and The Ramshackle Band
Naomi Bedford's unique voice has long gathered support from all corners of the musical fraternity.
Her emotive hybrid of plaintive British folk and high lonesome Americana has gained plaudits from such diverse artists as Peter Buck, Shirley Collins, Chris Difford, Linda Thompson, Iggy Pop and many others.
20.15 Dead Sheeran
Dead Sheeran is a solitary artist, well versed in the dark side of the Force. One man and a trusty laptop, a victim of lockdown blues. Scathing, raging, tender and hilarious.

"Protest and survival that you can dance to, whilst pissing yourself laughing -so that you don't put your fist thru the screen every time Boris appears…" Louder Than War 7/11/20
21.30 Lady Nade
Named one of Bristol's most influential women of 2022, Lady Nade is continuing her rise as a multi-award winning eclectic Folk and Americana singer-songwriter. Her third album 'Willing' entered both the official Folk and Americana charts on its release. With the title track Single winning 'UK song of the Year' in the 2022 UK Americana Awards.
Her performances are like a reunion. Share a room with her, and she'll give you her story. All of it. The joys and sorrows. You will love her for it, and she will love you back.
22.50 She Drew The Gun
| | |
| --- | --- |
| | Passionate, principled, and refreshingly plain-spoken, Louisa Roach will not be cowed into silence. As She Drew The Gun, the Wirral-based singer-songwriter has spent the last seven years cementing her reputation as a vital voice in the alternative scene, using punk-infused psych-pop as a vehicle for exposing injustice and for advocating for a fairer and more tolerant society. That message is more potent than ever on Behave Myself, her incendiary third album due in September 2021. |
Open mic and poetry sessions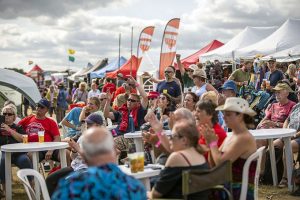 No advance booking – get your name on the board
Nestled in between the Fringe and the Workers Beer tent is a small stage where the great, the good and sometimes the "A* for effort come and showcase their talent. You might spot some rising starts here. We also have a great line up of performing poetry.  Why not give it a go?
12.00-13.00 Poetry
13.00-16.30 – Open Mic music
---
Sunday
Main Stage
11.00 Mischa and his Merry Men
Mischa & His Merry Men are an ethically driven, collective of over 40 musicians, with songs crossing multiple genres, with many shows a completely unique line-up and experience.

They are known for getting crowds stomping at festivals or uplifting audiences with merry melodies at folk festivals across the country. If you want to come on a completely unique, musical and magical journey, come and enjoy the Merry Many!
11.55 Gasper Nali
Gasper Nali is a roots one-man-band from the small town of Nkhata Bay on the shores of Lake Malawi. He plays a one-string home-made 3-metre long Babatoni bass guitar with a stick and an empty beer bottle, and together with a cow skin kick drum and catchy melodies, he creates the most amazing and danceable original Afro Beats possible!
Gasper's unique style of Kwela music has received an extraordinary amount of online attention after a video of him playing by the lake shore went viral with over 20 million views.
13.00 Dakka Skanks
| | |
| --- | --- |
| | Meeting at music college in Brighton, this young band have pulled together so many influences, to take a classic ska rhythm into the 21st century. They blend established Jamaican dance rhythms, sprinkled with indie rock guitar and catchy choruses that give this band a truly fresh and new sound. Clara Byrne's mesmerizing lead vocal cuts through like a wave of emotion, her lyrical content straight from the soul, with serious social issues explored through dramatic delivery. |
15.45 NoGood Boyo
NoGood Boyo, Welsh trash-Trad group, are the only band you need to see if you've ever wondered what would happen if you locked Enter Shikari, The Prodigy and Meredydd Evans, in one room and told them to soundtrack the apocalypse.
Looking like steampunking Welsh Nanas in boiler suits their music is a mix of traditional Welsh language songs with 90s rave and nu-metal. It's all dressed up in boiler suits topped with shades and those traditional Welsh hats you previously only saw on biscuit tins and tacky merch at Barry Island.
NoGood Boyo: reclaiming Welsh traditional music and shattering dancefloors from 2022. Dressed to party like it is 1699.
16.45 Billy Bragg
| | |
| --- | --- |
| | Billy Bragg has been a fearless recording artist, tireless live performer and peerless political campaigner for over 45 years. His songs present what the Guardian called 'the perfect Venn diagram between the political and the personal.' Politicised by Rock Against Racism, Billy was a founder of Red Wedge, a coalition of musicians who campaigned against Margaret Thatcher at the 1987 election. Curator of the Left Field at Glastonbury Festival, in recent years has become an author. His most recent book, The Three Dimensions of Freedom, argues for liberty, equality and accountability. |

11.00 Chris Harrison
Chris Harrison is a musician, teacher and composer, who grew up in the north-east and is now based in London. After a career in music education, he has turned his attention to making more of his own music and to developing music-making within his local community, where he runs an instrumental band and a singing group and conducts a community orchestra.
His set at Tolpuddle Martyrs Festival will largely feature his own settings of poems by his great-great-grandfather, Joseph Skipsey (1832-1903). Skipsey was a Northumberland miner who taught himself to read and write and became a nationally respected poet.
1140 Bridget Hart
Bridget Hart (they/them) is a queer, working class writer, performer and creative producer.
Bridget has performed at a variety of events including Manchester Punk Festival, Shambala, Boomtown Fair, Audacious Women Festival, and probably your back garden circa 2011-16. In 2017 they released the debut pamphlet Better Watch Your Mouth with Burning Eye Books. Their work has also appeared in Paper & Ink Literary Zine, Untitled Writers, Dear Damsels, Ink, Sweat & Tears and Hollow Earth Zine.
1220 Anne-Marie Allen
Anne-Marie Allen is a BBC Introducing singer-songwriter whose unique musical style does not confine itself to one specific genre. Her lyrics are honest about the human condition, yet her music has an upbeat vibe that keeps audiences smiling. Her songs tell stories of freedom, capitalism, and human connection, presenting a lucid lyrical landscape with percussive guitar rhythms.
Her addictive hooks, melodies and original songs make audiences want to dance and wake up the next day singing her songs!
1300 Sam Draisey
| | |
| --- | --- |
| | Sam Draisey is a singer/songwriter from the West Midlands, England. His music has, in the classic singer/songwriter style, many influences and muses, with particular attention paid to the story telling qualities and political nature of his songs. His notable influences include Frank Turner, Damien Rice, Billy Bragg, Cat Stevens, Paul Simon and Johnny Cash as well as other more traditional folk artists. |
1545 Katie Grace Harris
| | |
| --- | --- |
| | Katie Grace Harris is a multi-tasking, foot tapping, piano and accordion playing singer and story-weaver. With a fast-growing reputation in the UK Folk world, her sound has been described as 'earthy, spine-tingling English Folk'. Katie is joined on cello by the phenomenal Andy Nice (Cellist for BBCs Pride and Prejudice), guitarist David Mitchell (Mitchell and Vincent) and Paddy Harris on percussion. |