There were earlier examples of small co-operative societies but it was in 1844 when the Rochdale Pioneers established a consumer co-op that the co-operative movement really took off. Ordinary working people, especially trade unionists and socialists, organised themselves to set up shops that shared the profits in what became known as the 'divi'.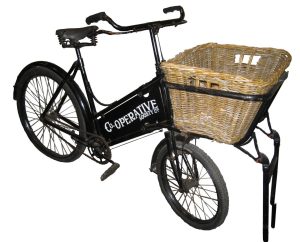 In the mid-1800s food was expensive and often adulterated. Most basic commodities were targets to be bulked out with cheap ingredients. Milk was often watered down with chalk added. Bread had alum mixed in, flour had white lead, sugar had ground glass. Tea, beer, jam, cider, chocolate and other foods were likely to be abused. Working people needed a source of food they could afford and trust.
Edward Vansillant Neale (1810-92) Christian Socialist and leading co-operator was born in Bath. Neale lost a lot of money in failed co-operative ventures but in 1851 he founded the Central Co-operative Agency, a wholesale depot that was a forerunner of the Co-operative Wholesale Society. In 1852 he founded the Co-operative League a forum for co-operative ideas and was keen to bring organisation to the Co-operative Movement. In 1873 he became General Secretary of the Co-operative Union, a post he held until 1891.
Swindon Co-op
The Swindon Co-operative Society was founded in 1850 with a small bread shop. In 1862 the New Swindon Industrial Co-operative Society was formed and in 1880 a third society was formed called the Kingshill Co-operative Society.
Gloucester Co-op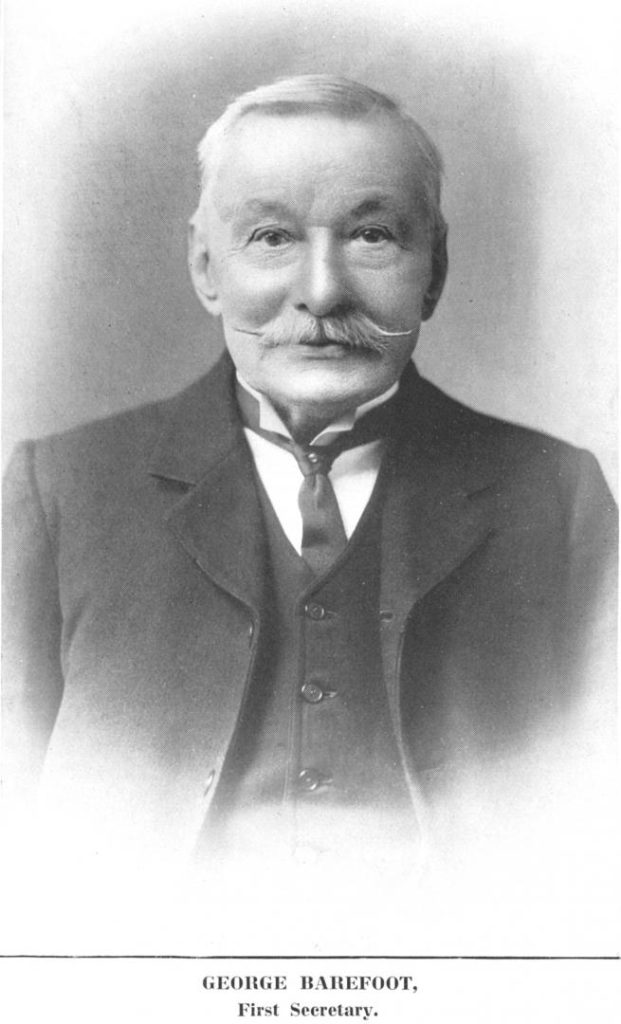 The Gloucester Co-operative and Industrial Society was formed in 1860 by a group of railway workers. The first meeting was to be in a house near Barton Gates but so many turned up an alternative venue was needed. Joseph Clay, the Secretary of the local branch of the Amalgamated Society of Engineers, arranged for a room at the Hope Inn to be used. George Barefoot was elected Secretary and William Pollard, a bookbinder as President. The Society had £19 16s 7d reported Benjamin Brook, the Treasurer. His wife hid the money in the chimney. A shop and bakehouse was quickly opened in Princes Street.
The Society gave funds to help the free public library. An Educational Committee was formed and the first Annual Tea held in 1863. By 1910 the Society had eighteen shops, a bakery and a depot in Gloucester. Between 1887 and 1900 it also had a dairy farm of 100 acres at Saintbridge.
Co-op ideas spread
The Gloucester Society helped set up co-ops in Cheltenham and Tewkesbury. Radstock Co-operative Society began in 1868. The first successful co-op in the Forest of Dean was founded in 1874 in Cinderford.
In 1879 the Annual Co-operative Congress with 131 delegates was held in Gloucester. In 1904 the Women's Guild Congress was held in the city. The agenda included Labour representation and women's suffrage.
Bristol Co-operative Movement
The Bristol Co-operative Movement had a difficult start. The first co-op was formed in 1840 by Felix Simeon and Richard Daniel with a store in Broad Weir, "for the purpose of more justly distributing wholesale provisions to the producers of real wealth." In 1859 the Bristol Industrial Co-operative Society was launched with a shop at 2 Whitsun Street but this was dissolved in 1861. James Pleace, a carpenter and joiner led a more successful co-op. He left for Australia and the Society had grown to have a number of shops but failed in 1871.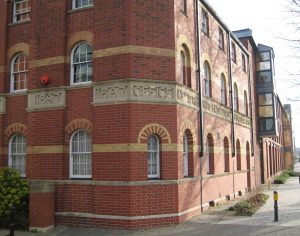 In 1881 the Bedminster Industrial Co-operative Society was formed and its first shop was opened in 1882 at 88 West Street. The Bristol and District Co-operative Society was started in 1884 by a group of trade unionists including shoe-maker John Wall, in a shop in Houlton Street, St. Paul's. The store opened two nights a week for its first six months. Average weekly trading was £10 and at the end of the first quarter £130 had been taken and a 'divi' of 1s 6d was handed out.
Relations with local trade unions were not easy. On 5th February 1891 a co-op delegation met the Trades Council to win support. The Co-op declined to promote the Women's Trade Union Society and the baker's union delegate alleged the Bedminster Co-op was working its men more than fifteen hours a day and had dismissed union men to pay non-unionists 21s a week. The Co-op claimed that the charges were inaccurate and misleading but when a delegation from the Trades Council met the Society there were more complaints over pay in the boot department. Relations improved when John Curle, Secretary of the Trades Council stood and was elected as President of the Co-operative Society and other trade unionists joined the committee.
Stores opened in St George's Road, Hotwells, Lawrence Hill, and Lower Ashley Road. In 1893 the Co-operative Congress met in the Hall of the YMCA, St James' Square, Bristol. Tom Mann and Ben Tillett took part. The Co-op started a dairy in 1921 in Ducie Road. By 1918, the Bristol Society was strong enough to acquire land in Castle Street for new central premises which opened as a department store in 1930.
By 1940, the Bristol Society's annual sales exceeded £3 million. By then the Co-op provided tailoring, chiropody, hairdressing, removals, travel, milk, bread and funeral services. The Society also provided a strong programme of social and educational activities.
Plymouth Co-op
It was Christmas Day, 1859 when John Slade, John Shovel and Charles Goodanew met to set about forming the Plymouth Mutual Co-operative Society. The first formal meeting was held in the tiny back room of Goodanew's shop.
Plymouth had a growing population and sanitation was poor. Charles had already lost four of his nine children and the new co-operative concept of providing quality food at fair prices fitted his determination to improve local living standards. The first shop opened in Catte Street on 2nd February 1860. By September the Co-operative Society moved to bigger premises in Kinterbury Street and within a year more than a hundred members had joined. By 1864 the shop moved again to Cornwall Street complete with library and education department.
By 1880 the annual turnover was nearly £100,000 with 5,000 members getting a 'divi' of 2s 4d. The Society had become a major trader in the area. In June 1886, Plymouth hosted the annual Co-operative Congress. A second lifeboat built with donations from co-op stores was launched to be stationed at Illfracombe. The Congress came to Plymouth again in 1910 with 1,600 delegates. By then the local Society had grown with 106 stores, 1,147 staff and 37,184 members.
Co-operative growth
In 1880 there were nine societies in Devon: Barnstaple, Bideford, Buckfastleigh, Devonport Coal, Exeter, Newton Abbot, North Tawton, Plymouth and Tiverton. Cornwall had ten societies.
The Co-operative became part of the lifeblood of society. It established an extensive infrastructure of farms and wholesale suppliers. Co-ops served almost every occasion from retail to funerals, from baking to banking.
Almost every town and village had a co-operative store but some struggled without enough trade. Enthusiasm and co-operative principles were not enough and some failed through lack of management skills.
By the 1960s the growing super-markets forced many small stores to close or merge.
Co-ops today
The Co-operative Movement has a large and diverse family of stores, services and societies across the region. The Co-op Bank faced a major crisis after the economic crash along with some mis-management and it was forced to seek external investment and concede on some of its co-operative principles.
The co-operative movement has led the way on selling Fairtrade products and adopting ethical and environmental standards. It has been at the forefront of sustainability.
Many rural communities in the West Country have re-discovered co-operative ideas to maintain village stores, pubs and transport facilities. Farmers have combined in large co-operative ventures and co-ops form an important part of our health and educational sectors.
There are co-operative energy providers, housing associations, care providers, financial services and telephone operators.