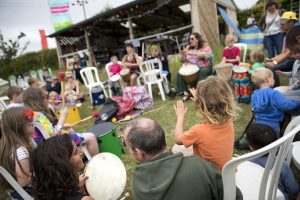 Situated in what was once the cottages' orchard, the Kids Area, sponsored by NASUWT is jampacked with interesting things to do with lots of opportunities to get creative helping to keep of children of all ages happy and entertained all day long …
Dorset's own Swap Shop is overflowing with clothes, toys and knick- knacks to swap or buy for a donation. So bring something along to swap or donate to our just hang out and enjoy the fantastic take home craft activities a small donation.
This year our favourite storyteller, Mark from Walk the Lines is back, telling his spellbinding, funny, crazy tales and dressing up in equally crazy costumes! You will find him in the story tent. Marks stories are suitable for children of all ages.
If your children love cooking visit the Kids Area kitchen, where for a donation they can make their own organic pizza with the Green Kitchen crew, using delicious organic ingredients from the Plot Gate community farm.
Woodcraft Folk provide an amazing range of crafts and collaborative games and a place to hang out, especially suited to older children. So, join in and get creative!
Drum It Up, bring the beats to the Kids area with high energy drum circles and rhythm games. Discover the joy of creating a groove in a group and showcase your talents on Sunday's march!
Wolly the clown will amaze and delight children and adults of all ages with dizzyingly daft and dangerous stunts performed in his hilarious shows, with workshops afterwards to improve your own circus skills.
Have a go at Hapa Zome, the ancient Japanese art of printing leaves and flowers onto fabric by bashing them with a mallet!
Make a mask or a puppet that will inhabit the ever growing carboard village, with Cardborn, suitable for all ages.
Don't forget to get your face painted for free by the amazingly talented artists from Diamond Faces, provided by NASUWT who also sponsor the Tolpuddle Kids Area every year!
So, come along, have fun, make some noise be part of this year's Kids Area!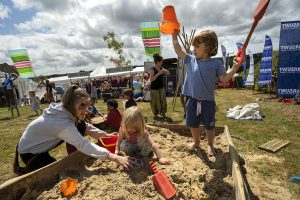 Kids Area, Tolpuddle Martyrs Festival, Dorset.
© Jess Hurd/Tolpuddle Martyrs Festival
Kid's Area running order 2023
Friday 12.00 to 19.00
The Marquee – 13.00 – 19.00 DIY painting
Story Tent 17.30 – 18.30 Bedtime story
Village Green 15.30 – 16.30 Hapa Zome, 17.30 – 19.00 Help yourself Circus Skills
Saturday 09.00 – 19.00
The Marquee 09.00 – 10.00 DIY Painting, 11.00 – 12.00 Drum circle, 12.00– 13.30 Cardborn, 14.30 – 15.30 Drum circle, 1645 – 1815 Cardborn
Kids Area Kitchen 11:30 – 14:30 Make your own pizza, 16:00 – 19:00 Make your own pizza
Story Tent 13.30 – 14.30 Story Telling, 18.00 – 19.00 Bedtime story
Village Green 10.00- 12.00 Hapa Zome, 16.00 – 16.45 Wolly the clown show, 16.45 – 18.00 Circus skills workshop
Swop Shop 10.00 – 12.00 Swop Shop, 13.30 – 18.00 Swop Shop
Woodcraft Folk Marquee 11.00 – 18.00 Creative Crafts and collaborative games
Sunday 09.00 – 18.00
The Marquee 09.00 – 10.00 DIY Painting, 11.00 – 12.00 Drum circle, 12.00– 13.30 Cardborn, 13.00 – 14.00 Kids Area Drumming on the march, 16.30 – 18.00 Cardborn
Kids Area Kitchen 11:00 – 14:00 Make your own pizza, 16:00 – 18:00 Make your own pizza
Story Tent 10.00 – 11.00 Story Telling, 13.30 – 14.30 Story Telling
Village Green 11.00 – 13.00 Hapa Zome, 14.30 – 15.30 Hapa Zome, 15.45 – 16.30 Wally the clown performance, 16.30 – 18.00 Circus skills workshop
Swop Shop 10.00 – 12.00 Swop Shop, 13.30 – 18.00 Swop Shop
Drum March 12.30 Meet in the kids area to get your drums, 14.00 Return to kids area
Woodcraft Folk Marquee 10.00 – 12.30 Creative Crafts and collaborative games