West Country agricultural life had been hard but stable for generations. Towards the end of the eighteenth century, new methods and machines threatened the established order.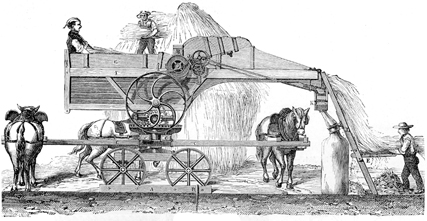 Workers had no rights to oppose such changes and turned to riot and threat to defend themselves.
By the early 1830s economic depression caused further rural unemployment and more pressure on the Poor Law system. Cuts to the levels of support were met with protests across the South West. In some places these amounted to church boycotts and walk outs. In Wroughton, Wiltshire the protest amounted to "smoking pipes in the cemetery."
Wage cuts hit particularly hard in areas already poorly paid such as southern Britain. The arrival of new threshing machines further weakened the position of farm workers.
The start of Swing
On the night of 28th August 1830, in East Kent, a threshing machine was destroyed by angry labourers. This was the start of a revolt that spread across the south involving machine breaking, arson and assaults on overseers and justices.
The action was often heralded by threatening letters in the name of Captain Swing, a fictitious character.
The first recorded Swing disturbance in the South West was at Maddington in Wiltshire on 8th November 1830. The rebellion swept through Wiltshire and Dorset in particular. Incidents in Puddletown and other Dorset villages probably involved farm workers who were later to join the Tolpuddle union. There is no evidence that any of the six Tolpuddle Martyrs were directly involved.
The response
Some employers agreed to raise pay or at least not cut it. There were even reports of farmers smashing their own machines to prevent attacks. Many attacks were headed-off with one-off payments or beer. But fear of attack quickly turned to determination to crush the rebels. To stop the revolt, the farmers recruited special constables and turned to the militia to suppress the uprising.
Marauding farm labourers were no match for armed soldiers and ring-leaders were soon arrested.
Retribution
Special courts dealt with hundreds of labourers arrested during the disturbances. Many were sentenced to hang but most avoided execution, being transported to Australia instead.
With the threat passed, many farmers cut pay again and the poverty faced by rural communities became even deeper.
There had to be a better way
The experience of the Swing Rebellion had a profound effect on the farm workers of Dorset. There had to be a way to resist cuts to pay without resorting to futile violence. In the towns and cities workers had begun forming unions. Perhaps this was the better way?