Friday 14 July
1700 – 1750 
In conversation with… Matthew Collins
Hope not Hate's Matthew Collins, as seen in ITV's The Walk-In played by Stephen Graham, in conversation with his editor, Tim Lezard.
1800 – 1930
Unions winning for working people
The past year has seen the biggest wave of industrial action in this country since 1989. Working people and unions have been rising up against the onslaught of more real cuts to wages, as soaring inflation and the rising cost of living hammers down. Alongside this, we are seeing a deliberate erosion of workers' conditions from employers as well as the current government lead an all-out attack on the fundamental rights of workers to strike. In our launch event, hear from the unions facing this barrage of attacks on working people and how they are pushing back. Speakers include: Fran Heathcote, PCS President; Justine Mercer, UCU President; ASLEF General Secretary Mick Whelan with more to be announced.
Saturday 15 July
10.15 – 11.15  Young workers: under-paid, under-appreciated, under 30
Younger workers are more likely to be on precarious work contracts, stuck on low wages, and exposed to higher level of abuse and harassment at work. As a movement, we need to do more to push back against discriminatory minimum wages, and support this generation of workers. With Alice Arkwright, TUC Policy Officer; Emma de Saram, Unite young rep; Quincy Raymond, CWU rep and TUC Chair of Young Workers Forum;  Lois McCallum, TUC Digital Organiser and Campaigner
11.30 – 12.30  Universal Credit – our failing safety net 
Our safety net has been dramatically undermined after years of underinvestment and constant tinkering around the edges, led by an ideological narrative that in-work claimants and our most vulnerable in society are to blame. This discussion exposes the failures of Universal credit and the current welfare system. With Brett Sparkes, Unite the Union officer; Andy Mitchell, poverty and benefits campaigner; Fran Heathcote, PCS President; and Paul Fleming, Equity General Secretary
12.45 – 13.45  Tackling racism and the far right narrative
With Kudsia Batool, TUC Head of Equalities and Strategy; Dr Patrick Roach, NASUWT General Secretary; Marcia Dawkins, Unison rep, Theatre Coordinator, Cultural Ambassador; Freedom to Speak up Champion; Matthew Collins, Hope Not Hate; Stand Up to Racism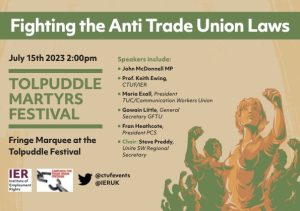 14.00 – 15.00  Fighting the Anti Trade Union Laws
In the biggest wave of industrial action for a generation, it is perhaps unsurprising to see the government make their latest cynical attempts to curtail working people's rights, including the most fundamental of them all – the right to strike.
With John McDonnell MP, Prof. Keith Ewing (CTUF/IER), Maria Exall (TUC President), Gawain Little (GFTU General Secretary), Fran Heathcote (PCS President)
3.15 – 4.30pm Credit crunch, Covid, Cost of living – how the Tories ruined Britain
…and how we're fighting back. With a general election on the horizon, speakers reflect on the state of the nation under the Conservative Party. Warning: it's not pretty.
Sunday 16 July
10.00 Why Class Matters. In conversation with Chris Nineham
At a time of almost unimaginable inequality, the mainstream still tries to ignore class. Shelly Asquith interviews Chris Nineham, author of Radical Chains: Why Class Matters who argues that the denial of class is no coincidence and how it must be placed at the centre of emancipatory politics.
11.00 – 12.00 
Action for a better deal for education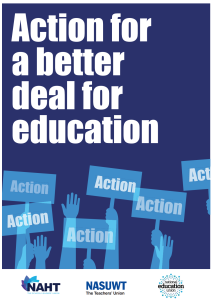 Hear from leading voices from the education sector on how repeat real terms cuts to schools and staff pay is affecting the state of education in this country, and the deep impact it is having on staff and children's lives. With: Dr Patrick Roach NASUWT General Secretary; Paul Whiteman NAHT General Secretary, and Dr Mary Bousted Joint General Secretary NEU.