George Loveless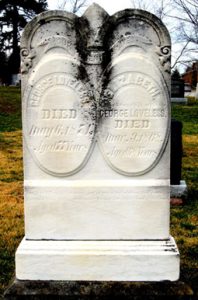 Self-educated and self-reliant, George Loveless was 37 when arrested. He married Elizabeth (Betsy) and by 1834 they had three children, all supported on a ploughman's wage of nine shillings a week.
After George returned to England, the couple had two further children but Sina aged just four, died during the rough sailing to Canada and was buried at sea.
Loveless was a Methodist lay preacher. He was articulate and wrote eloquently about the Martyrs' experiences in 'The Victims of Whiggery' and 'The Church Shown Up'. Loveless and four of his fellow Martyrs emigrated to Canada, where he helped to build a Methodist Church at Siloam.
He died in 1874 at the age of 77.
For more reading: The story of George Loveless. George wrote a stinging attack on the church establishment in The Church Shown Up.
James Brine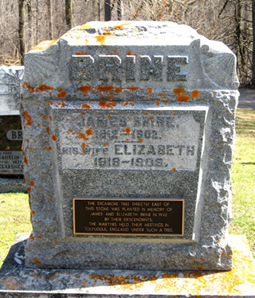 Born in 1813, James was arrested before his 21st birthday. Reputed to have a bright personality, he produced a dramatic account of his experiences as a Martyr.
In Australia he was robbed of all the bedding and clothes allocated by the authorities on his way to his assigned master. On his return to England he married Elizabeth Standfield, daughter of Thomas and sister of John, further strengthening the family bonds, at Greensted Church, Essex. They had 11 children, four born in England, the others in Canada. Brine lived to 90, dying in 1902.
He built the log house which is still a local landmark – the only building associated with the Martyrs left in their adopted country.
James Hammett
Born at the end of 1811, he was an outsider: unlike the others, he never wrote about his experiences, had a criminal record and was not a Methodist. He alone returned toTolpuddle as a builder's labourer. He was not at the fateful initiation, and may have accepted arrest on behalf of his brother, John, who was present. Hammett had been imprisoned in 1829 for allegedly stealing some pieces of iron.
In 1875 the Agricultural Workers Union presented James with an illuminated address and a fine engraved watch. He married three times and had seven children. Before his death in 1891 he moved into Dorchester Workhouse so as not to be a burden on his family. It is said that when he was buried in the Parish Church in Tolpuddle, orders were given that they should be no speeches over the grave. Talk of unions was still feared by those in power.
James Loveless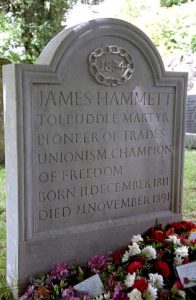 Five years younger than George, James was born in 1808. Married with two children, he too was a Methodist preacher.
A founder member of the Tolpuddle Union, he was singled out by Squire Frampton as a firebrand as early as 1830 during local riots in Piddletown. Of all the emigrants to Canada he alone did not buy land, opting instead to become sexton of the North Street Methodist Church in London Township, Ontario. He remained so until his death at 65 in February 1873.
John Standfield
John and his father Thomas along with George and James Loveless worked on the same farm in Tolpuddle. All the families were very close.
After their return from transportation in Australia, John moved with the others to Essex and then to Canada. There he became mayor of East London, where he kept a hotel, ran a shop and founded a choir.
Thomas Standfield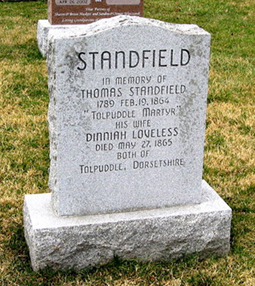 The oldest, Thomas Standfield was 44 in 1834 and married to the Loveless brothers' sister, Dinniah. By February, 1834 they had five children (with one on the way) of whom John, a fellow Martyr, was the oldest. Thomas was also a Methodist and co-founder of the Tolpuddle Union. Many of their meetings were held in the upstairs room in his cottage.
On moving to Essex, Thomas and his son John went to Fenner's farm, five miles from the Lovelesses, which had been leased for them by the London Dorchester Committee.They emigrated to Canada two years after the Lovelesses. He died aged 74 in February, 1864. Diana soon followed him. Their graves are next to George and Betsy Loveless in Siloam cemetery.
What of the wives and families?
After the transportation of their husbands, the wives of the Tolpuddle men had to apply for parochial relief to Squire Frampton and the Justices who had organised their arrest and punishment. In refusing any assistance, Frampton considered that no person should be entitled if they could afford to join a union. "They meant us to suffer for the offences of our husbands" said the women in a letter to supporters. "Tolpuddle have for many years been noticed for tyranny and oppression and cruelty and now the union is broke up here."
The union campaign started raising money for the families and soon relief was at hand: "Sir, on Tuesday last a Gentleman came from London and relieved us; he gave us £2.3s each, all equal alike; had it not been for this I cannot tell what we should have done."
Family Tree
Working people in the nineteenth century tended to have large families. Infant deaths were common and giving birth killed many women. An example was James Loveless who was the uncle to Martyrs, George and James. His first wife, Christian died after giving birth to three children but only one, Betty, survived after birth. With his second wife, Sarah, they had baby James who died within a year and two years later both mother and baby died. James married a third time to Betty. In 1764 baby James died, then in 1766 baby Jenny died, in 1771 new baby, Jenny, died and then later the same year another baby Jenny died along with the mother.
The ties between the families of the Tolpuddle Martyrs can be seen through the various family trees. The descendents are proud of their roots back to Tolpuddle. The South West TUC has tried to combine the trees in a single complex diagram. Down the PDF version here: Family Tree (170kb) or order the poster here.