Saturday
With lots of speaking sessions and workshops, village trails, kids entertainment, union activities, the annual POA hike, Radical History School lectures, and live music across the day, you will be spoiled for choice.
---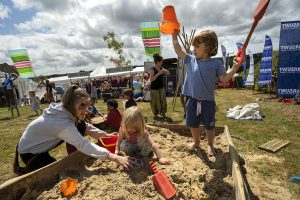 Saturday Kids' Area
Open from 9.00am until 7.00pm, the Kids' Area, sponsored by NASUWT, is the perfect place for children to play, explore and have fun. There are lots of activities to keep children of all ages happy and entertained throughout the weekend. 
The Marquee 
09.00 – 10.00 DIY Painting
11.00 – 12.00 Drum circle
12.00– 13.30 Cardborn
14.30 – 15.30 Drum circle
16.45 – 18.15 Cardborn
Kids' Area Kitchen
11:30 – 14:30 Make your own pizza
16:00 – 19:00 Make your own pizza
Story Tent 
13.30 – 14.30 Story Telling
18.00 – 19.00 Bedtime story
Village Green 
10.00- 12.00 Hapa Zome
16.00 – 16.45 Wolly the clown show
16.45 – 18.00 Circus skills workshop
Swop Shop
10.00 – 12.00 Swop Shop
13.30 – 18.00 Swop Shop
Woodcraft Folk Marquee
11.00 – 18.00 Creative Crafts and collaborative games
---
Music
Tolpuddle Unplugged in the Fringe Tent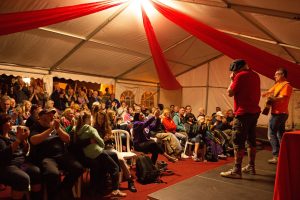 From 7.00pm – LIVE Acoustic sessions curated by Steve White & LOL from Steve White and the Protest Family
Tolpuddle Unplugged is the festival's best kept secret.
Nobody knows quite what will happen in the Fringe Tent on Saturday night, not even the hosts of this stage with no PA, no lighting and no running order, but something special always does. From headline acts warming up their vocals, to walk-ups, 'have-a-go-ers' and festival regulars, prepare for the unexpected.

Naomi Bedford's unique voice has long gathered support from all corners of the musical fraternity.
Her emotive hybrid of plaintive British folk and high lonesome Americana has gained plaudits from such diverse artists as Peter Buck, Shirley Collins, Chris Difford, Linda Thompson, Iggy Pop and many others.
20.15  Dead Sheeran
Dead Sheeran is a solitary artist, well versed in the dark side of the Force. One man and a trusty laptop, a victim of lockdown blues. Scathing, raging, tender and hilarious.

"Protest and survival that you can dance to, whilst pissing yourself laughing -so that you don't put your fist thru the screen every time Boris appears…" Louder Than War 7/11/20
Named one of Bristol's most influential women of 2022, Lady Nade is continuing her rise as a multi-award winning eclectic Folk and Americana singer-songwriter. Her third album 'Willing' entered both the official Folk and Americana charts on its release. With the title track Single winning 'UK song of the Year' in the 2022 UK Americana Awards.
Her performances are like a reunion. Share a room with her, and she'll give you her story. All of it. The joys and sorrows. You will love her for it, and she will love you back.
| | |
| --- | --- |
| | Passionate, principled, and refreshingly plain-spoken, Louisa Roach will not be cowed into silence. As She Drew The Gun, the Wirral-based singer-songwriter has spent the last seven years cementing her reputation as a vital voice in the alternative scene, using punk-infused psych-pop as a vehicle for exposing injustice and for advocating for a fairer and more tolerant society. That message is more potent than ever on Behave Myself, her incendiary third album due in September 2021. |
---
Open mic and poetry sessions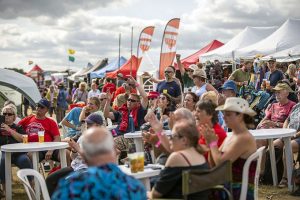 12.00 – 13.00 Poetry
13.00 – 16.30 Open Mic 
No advance booking – just get your name on the board
Nestled in between the Fringe and the Workers Beer tent is a small stage where the great, the good and sometimes the "A* for effort come and showcase their talent. You might spot some rising starts here. We also have a great line up of performing poetry.  Why not give it a go?
---

Running alongside the Festival, the Tolpuddle Radical History School runs from Thursday 13 – Saturday 16 July. With lectures and discussions from leading academics in their field, click here to find out more including how you can take part.
---
Talking in Tents 

10.15 – 11.15  Young workers: under-paid, under-appreciated, under 30
Younger workers are more likely to be on precarious work contracts, stuck on low wages, and exposed to higher level of abuse and harassment at work. As a movement, we need to do more to push back against discriminatory minimum wages, and support this generation of workers. With Alice Arkwright, TUC Policy Officer; Emma de Saram, Unite young rep; Quincy Raymond, CWU rep and TUC Chair of Young Workers Forum;  Lois McCallum, TUC Digital Organiser and Campaigner
11.30am – 12.30pm  Universal Credit – our failing safety net 
Our safety net has been dramatically undermined after years of underinvestment and constant tinkering around the edges, led by an ideological narrative that in-work claimants and our most vulnerable in society are to blame. This discussion exposes the failures of Universal credit and the current welfare system. With Brett Sparkes, Unite the Union officer; Andy Mitchell, poverty and benefits campaigner; Fran Heathcote, PCS President; Paul Fleming, Equity General Secretary
12.45 – 1.45pm  Tackling racism and the far right narrative
With Kudsia Batool, TUC Head of Equalities and Strategy; Dr Patrick Roach, NASUWT General Secretary; Marcia Dawkins, Unison rep, Theatre Coordinator, Cultural Ambassador; Freedom to Speak up Champion; Matthew Collins, Hope Not Hate; Stand Up to Racism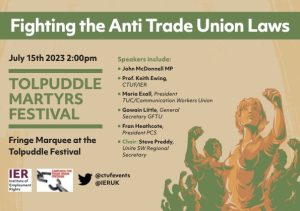 2.00 – 3.00pm  Fighting the Anti Trade Union Laws
With John McDonnell MP, Prof. Keith Ewing (CTUF/IER), Maria Exall (TUC President), Gawain Little (GFTU General Secretary), Fran Heathcote (PCS President)
3.15 – 4.30pm Credit crunch, Covid, Cost of living – how the Tories ruined Britain
…and how we're fighting back. With a general election on the horizon, speakers reflect on the state of the nation under the Conservative Party. Warning: it's not pretty. Chaired by Hannah David, SWTUC Chair and Vice President PCS; with Kerry Baigent, Unison South West Senior Regional Manager; Angela Duerden, Unite National Executive member; Ben Selby, Assistant General Secretary FBU; Maria Exall, TUC President, CWU Greater London branch officer and chair of the TUC's LGBT committee.
---

The union movement is proud to have links with friends and comrades around the world. Hear from campaigns and organisations on how our shared values can support collective goals.
10.30 – 11.30 In conversation with: Emmanuel Jal
In this exciting interview, hear from one of our star performers at the Festival this year, Emmanuel Jal as discusses his life from fleeing the Sudanese civil war and being trained as a child soldier, to discovering hip hop and the political and spiritual power of music. As a successful international musician, actor and activist, Jal continues to use his platform to bring messages of peace and enlightenment.
12.00 – 12.30 Viva Cuba! with Cuba Solidarity Campaign
Hear how you can support the campaign to oppose the illegal, unjust blockade of Cuba that has damaged Cuba and its people for decades.
12.45 – 13.15 Communities for Ukraine, with Citizens UK
Communities for Ukraine is a refugee sponsorship programme, that was created in March 2022, in response to the humanitarian situation caused by the war in Ukraine. Communities for Ukraine welcomes Ukrainians to the UK through the support of individual UK host families and our 'resettlement partners' – civil society organisations, which has included faith groups, community groups, businesses, and universities, and we now hope to expand our network to trade unions.
We also do community sponsorship and employment based advocacy for refugees through Sponsor Refugees, which seeks to support communities to resettle refugee families to their local neighbourhood and support them to build a new life in the UK.
So please come along and learn about what we do and how either your union, or you as an individual, can help!
13.45 – 14.45 No Prison Barge – Refugees Welcome 
In this panel discussion organised by Stand Up To Racism Dorset, speakers discuss the planned barge in Portland that will house over 500 refugee men in cramped, unsafe conditions. With no health or welfare facilities available, this inhumane decision by the Conservative government is only sowing the seeds of division and hate, and empowering extremist groups to attack vulnerable people.
15.00 – 15.30 Putting the union in 'union-made' – with No Sweat
No Sweat discuss their union-made T-shirt project, how it helps workers, how it is challenging brands to put trade unions at the heart of their business model.
15.45 – 16.45 Fighting the Far Right – political education workshop
---

11.00am – 12.30pm  Organising at work: how we did it
Workers and reps are the heart and soul of the union. Every day ordinary people make tremendous changes to the lives of their workmates and workers. In this inspiring session, hear from those who have organised, built strength and unity in their workplaces, branches and unions, against some of the nastiest of bosses.
12.15 – 1.00pm Campaigns speak out!
The union movement supports a range of campaigns and organisations who seek to change the world for the better. In this round robin showcase, they share their stories and campaigns.
1.15 – 2.30pm  Forgotten towns: hidden stories of poverty 
In the idyllic rural and coastal towns of the South West, working people are trapped in the double-bind of seasonal, casualised low-paid work on the one hand, and punitive housing costs driven up by second homes on the other. The voices of Dorset, Cornwall and Devon speak out on their experiences, the need for change, and how they are fighting back. Chaired by Neil Duncan-Jordan, President for Bournemouth, Christchurch and Poole Trades Union Council; Jenny Lennon-Wood, Secretary for Dorset Trades Union Council; Siobhan Lennon-Patience, Weymouth and Portland Community Research Network; and Jennifer Forbes, Cornwall Trades Union Council, Trade Union tutor and activist.
3.00 – 4.30pm  Tackling abuse and sexual harassment – making work and unions safe
The ground-breaking TUC report in 2016 laid bare the level of harassment and abuse women face at work. And crucially how much further we have to go as a movement. As more reports surface on the scale of harassment women and other groups at work continue to face, we hear from those making a stand. Chaired by Kudsia Batool, Head of Equalities TUC; Fliss Premru, #MeTU; Claire Laycock; Deeba Syed, Rights of Women and Nikki Pound TUC Women's Officer.
---

10.30 – 11.15am  Going Viral: Video content to win hearts, minds, and campaigns
Join the TUC Social Media Officers as they work with you to generate a viral video in this interactive workshop! Learn about what makes content engaging and how you can successfully use videos to get your message out.
11.30am – 12.30pm  Stories from the picket line: what we've learned this year
Countless working people have gone on strike this year, many for the first time in their lives. This workshop looks at the different skills and considerations brought to the table by different unions and presents an opportunity to grapple with the practicalities of effective picketing.
1.15 – 2.30pm Organising at work: tools and strategies to win control over your life

We spend so much of our lives at work; and for many this is a disempowering, draining experience. Effective union organising allows us to claim back agency over our working lives. Join us in reviewing strategies for power so you go back to work ready to take on the struggle and claim your right to dignity at work.
2.45 – 3.45pm  Campaigning with Impact: Digital tools and tactics to build solidarity and win
This workshop will focus on how unions are using digital tactics to win disputes, beat ballot thresholds and grow. Together we will discuss practical examples from campaigns big and small, new tools, tactics, and how all of these can support your own campaigns.
4.00 – 4.45pm  The revolution will not be televised – but it will be on social media
Unpacking what makes an effective social media strategy; why is social media an essential tool, and how can we best leverage it to support our campaigns and objectives.
---
Bookmarks
4.00pm Ralph Darlington (author of Labour Revolt in Britain) – book signing
---
Union Activities

POA Hike
09.30
Meet by the Martyrs' statues in front of the Main stage on the museum grounds to catch the bus from Tolpuddle to Dorchester. From there, you will join fellow festival attendees in the annual hike into Tolpuddle.
Unite marquee
1.00 – 1.55pm – Women in rural and agricultural work – an all women panel
With Monique Mosley, Unite rep and fresh produce worker, Bev Clarkson, Unite national officer, Sue Longley IUF general secretary, Livy Szedeli, Unite rep and migrant worker, Angela Duerden, Unite EC member, Ellie Jones, Unite rep and rural worker.
2.00 – 2.30pm – Open session
Come and meet our lovely Unite South West region and Landworker teams for info, advice and giveaways galore!
2.45 – 4.00pm – A rural worker's economy – the real cost of living in the countryside
With Steve Leniec, Unite rural and agricultural chair and farm worker, Steve Preddy, Unite SW regional secretary, Stéf Kasprowski, Unite SW regional chair, Richard Neville, Unite member and farm worker, Neil Grieve, Unite rep and forest ranger, Ivan Monckton, Unite rural campaigner.
4.00 – 4.25pm – Open Session

Come and meet our Unite South West region and Landworker teams for advice and giveaways galore!
4.35pm – Unite's 'Drag-tor Boys'.
Grab your feather boas for sequinned field frolics with Tolpuddle's first union drag act. Unite's very own drag beauties Diana Lolita and Aida entertain the crowds with perfectly applied makeup and songs loosely related to the economy.
5.00pm – Skimmity Hitchers
So famous, so wonderful… Live music and badger thrills from Dorset's number one cider band. Be there – or be a shape with four equal sides and four right angles.
UNIZONE
11.00 – 12.00    Poet Lawrence Hoo
12.00 – 14.00    Panel discussion: Long covid
14.00 – 15.00    Richard Davis, African drummer
15.00 – 16.00    Panel discussion: Lived experiences of UNISON Black members at work
---
Village Trail
Two sessions: 11.00 and 13.00
Guided walks through Tolpudddle with Tom deWit, Museum Manager. Meet at the Martyrs' statue in front of the Main Stage in the museum grounds.