Sunday – Martyrs' Day
On Sunday, the tiny village of Tolpuddle gets even more visitors as they arrive to take part in the big procession to commemorate the Martyrs. The road is closed from 13.00 – 18.00 to allow for the many unions banners march through the narrow road.
Great music keeps the vibe of the Festival going as we also welcome some big trade unionists to rally the thousands of visitors on the Main Stage.
---
Procession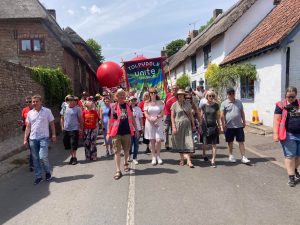 The core of the Tolpuddle Martyrs' Festival – for decades, long before there was a programme of music and talks, trades unionists gathered in Tolpuddle to march in commemoration of the Martyrs, their historical victories and the establishment of the Trades Union movement in the UK as a whole.
Gather with your union bloc or campaign group from 14.00 along with your banners.
---
Festival Church Services
11.00 St John's Parish Church – Songs of Praise
17.00 Methodist Chapel – End of Festival Service
---

Situated in what was once the cottages' orchard, the Kids Area sponsored by NASUWT is the perfect place for children to play, explore and have fun. With lots of activities to keep children of all ages happy and entertained all day long.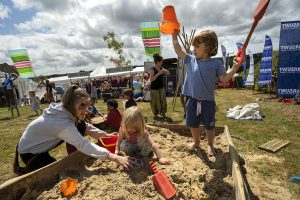 Sunday 09.00 – 18.00
The Marquee 09.00 – 10.00 DIY Painting, 11.00 – 12.00 Drum circle, 12.00– 13.30 Cardborn, 13.00 – 14.00 Kids Area Drumming on the march, 16.30 – 18.00 Cardborn
Kids Area Kitchen 11:00 – 14:00 Make your own pizza, 16:00 – 18:00 Make your own pizza
Story Tent 10.00 – 11.00 Story Telling, 13.30 – 14.30 Story Telling
Village Green 1.100 – 13.00 Hapa Zome, 14.30 – 15.30 Hapa Zome, 15.45 – 16.30 Wally the clown performance, 16.30 – 18.00 Circus skills workshop
Swop Shop 10.00 – 12.00 Swop Shop, 13.30 – 18.00 Swop Shop
Drum March 12.30 Meet in the kids area to get your drums, 14.00 Return to kids area
Woodcraft Folk Marquee 10.00 – 12.30 Creative Crafts and collaborative games
---
Main Stage Programme

11.00 Mischa and his Merry Men
Mischa & His Merry Men are an ethically driven, collective of over 40 musicians, with songs crossing multiple genres, with many shows a completely unique line-up and experience.

They are known for getting crowds stomping at festivals or uplifting audiences with merry melodies at folk festivals across the country. If you want to come on a completely unique, musical and magical journey, come and enjoy the Merry Many!
11.55 Gasper Nali
Gasper Nali is a roots one-man-band from the small town of Nkhata Bay on the shores of Lake Malawi. He plays a one-string home-made 3-metre long Babatoni bass guitar with a stick and an empty beer bottle, and together with a cow skin kick drum and catchy melodies, he creates the most amazing and danceable original Afro Beats possible!
Gasper's unique style of Kwela music has received an extraordinary amount of online attention after a video of him playing by the lake shore went viral with over 20 million views.
12.30-1.00pm Main Stage Speakers
Nury Martinez, President of the National Trade Union Federation of Agricultural Workers (FENSUAGRO)
Nury Martínez is President of the National Trade Union Federation of Agricultural Workers (FENSUAGRO), which represents both peasant farmers and industrial agriculture workers. FENSUAGRO is formed of over 100 affiliated unions and peasant organisations. It campaigns over land rights, social conditions and the consolidation of peace. Nury is also a member of the International Coordination Commission of the Via Campesina, an international network of grassroots peasant and rural movements.
FENSUAGRO has suffered some of the worst anti-union violence: since its foundation in 1976, more than 700 members have been killed or disappeared. In 2020, Nury was forced to leave her home after her family received paramilitary death threats. Numerous members have been imprisoned on trumped-up charges, including Executive Committee member Huber Ballesteros who was arrested shortly before he was due to attend TUC Congress in 2013, sparking a JFC campaign that finally saw him released in 2017. Attacks continue to this day and close to 40 FENSUAGRO affiliated trade unionists have been murdered since the signing of the peace agreement in November 2016.
Steve Preddy, Unite South West Regional Secretary
Ines Lage, TUC South West Regional Secretary
Hannah David, South West TUC Chair and PCS Vice-President
13.00 Dakka Skanks
| | |
| --- | --- |
| | Meeting at music college in Brighton, this young band have pulled together so many influences, to take a classic ska rhythm into the 21st century. They blend established Jamaican dance rhythms, sprinkled with indie rock guitar and catchy choruses that give this band a truly fresh and new sound. Clara Byrne's mesmerizing lead vocal cuts through like a wave of emotion, her lyrical content straight from the soul, with serious social issues explored through dramatic delivery. |
15:15 – 15:45 Main Stage Speakers
Maria Exall, TUC President
Paul Nowak, TUC General Secretary
Louise Haigh MP, Shadow Secretary of State for Transport
15:45 NoGood Boyo
NoGood Boyo, Welsh trash-Trad group, are the only band you need to see if you've ever wondered what would happen if you locked Enter Shikari, The Prodigy and Meredydd Evans, in one room and told them to soundtrack the apocalypse.
Looking like steampunking Welsh Nanas in boiler suits their music is a mix of traditional Welsh language songs with 90s rave and nu-metal. It's all dressed up in boiler suits topped with shades and those traditional Welsh hats you previously only saw on biscuit tins and tacky merch at Barry Island.
NoGood Boyo: reclaiming Welsh traditional music and shattering dancefloors from 2022. Dressed to party like it is 1699.
16.45 Billy Bragg
| | |
| --- | --- |
| | Billy Bragg has been a fearless recording artist, tireless live performer and peerless political campaigner for over 45 years. His songs present what the Guardian called 'the perfect Venn diagram between the political and the personal.' Politicised by Rock Against Racism, Billy was a founder of Red Wedge, a coalition of musicians who campaigned against Margaret Thatcher at the 1987 election. Curator of the Left Field at Glastonbury Festival, in recent years has become an author. His most recent book, The Three Dimensions of Freedom, argues for liberty, equality and accountability. |

11.00 Chris Harrison
Chris Harrison is a musician, teacher and composer, who grew up in the north-east and is now based in London. After a career in music education, he has turned his attention to making more of his own music and to developing music-making within his local community, where he runs an instrumental band and a singing group and conducts a community orchestra.
His set at Tolpuddle Martyrs Festival will largely feature his own settings of poems by his great-great-grandfather, Joseph Skipsey (1832-1903). Skipsey was a Northumberland miner who taught himself to read and write and became a nationally respected poet.
11.40 Bridget Hart
Bridget Hart (they/them) is a queer, working class writer, performer and creative producer.
Bridget has performed at a variety of events including Manchester Punk Festival, Shambala, Boomtown Fair, Audacious Women Festival, and probably your back garden circa 2011-16. In 2017 they released the debut pamphlet Better Watch Your Mouth with Burning Eye Books. Their work has also appeared in Paper & Ink Literary Zine, Untitled Writers, Dear Damsels, Ink, Sweat & Tears and Hollow Earth Zine.
12.20 Anne-Marie Allen
Anne-Marie Allen is a BBC Introducing singer-songwriter whose unique musical style does not confine itself to one specific genre. Her lyrics are honest about the human condition, yet her music has an upbeat vibe that keeps audiences smiling. Her songs tell stories of freedom, capitalism, and human connection, presenting a lucid lyrical landscape with percussive guitar rhythms.
Her addictive hooks, melodies and original songs make audiences want to dance and wake up the next day singing her songs!
13.00 Sam Draisey
| | |
| --- | --- |
| | Sam Draisey is a singer/songwriter from the West Midlands, England. His music has, in the classic singer/songwriter style, many influences and muses, with particular attention paid to the story telling qualities and political nature of his songs. His notable influences include Frank Turner, Damien Rice, Billy Bragg, Cat Stevens, Paul Simon and Johnny Cash as well as other more traditional folk artists. |
15.45 Katie Grace Harris
| | |
| --- | --- |
| | Katie Grace Harris is a multi-tasking, foot tapping, piano and accordion playing singer and story-weaver. With a fast-growing reputation in the UK Folk world, her sound has been described as 'earthy, spine-tingling English Folk'. Katie is joined on cello by the phenomenal Andy Nice (Cellist for BBCs Pride and Prejudice), guitarist David Mitchell (Mitchell and Vincent) and Paddy Harris on percussion. |
---
Talking in Tents
Fringe Tent
10:00 – 11:00 Why Class Matters. In conversation with Chris Nineham
At a time of almost unimaginable inequality, the mainstream still tries to ignore class. Shelly Asquith interviews Chris Nineham, author of Radical Chains: Why Class Matters who argues that the denial of class is no coincidence and how it must be placed at the centre of emancipatory politics.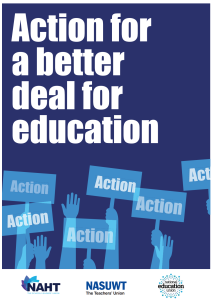 11:00 – 12:00 Action for a better deal for education
Hear from leading voices from the education sector on how repeat real terms cuts to schools and staff pay is affecting the state of education in this country, and the deep impact it is having on staff and children's lives. With: Dr Patrick Roach NASUWT General Secretary; Paul Whiteman NAHT General Secretary, and Dr Mary Bousted Joint General Secretary NEU.
Unite Marquee
9:45 – 10:45 Why is agriculture still so dangerous? – What can be done to make the UK's most hazardous work safe?
Daniel Zeichner MP shadow farming spokesperson, Rob Miguel, Unite national health and safety officer, John Burbidge, Unite safety campaigner and farm worker, Steve Leniec, Unite agricultural and rural chair, Julia Long, ex-Unite national officer.
---
Wreath laying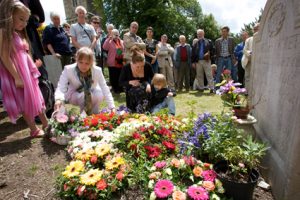 13.00 approx
St John's Parish Church
Anglican and Methodist representatives join in welcoming guests to lay wreaths on the grave of James Hammett, the only Martyr to return to Tolpuddle after transportation.