Sunday – Martyrs' Day
On Sunday, the tiny village of Tolpuddle gets even more visitors as they arrive to take part in the big procession to commemorate the Martyrs. The road is closed to allow for the many unions banners march through the narrow road.
Great music keeps the vibe of the Festival going as we also welcome some big trade unionists to rally the thousands of visitors on the Main Stage.
Festival Service
NASUWT Kids' Area
Radical Cinema
Fringe Tent
Unite Tent
Martyrs' Marquee Music
Wreath Laying
Main Stage Programme
End of Festival Service
---
Festival Service and songs of praise
11.00
St John's Parish Church
Tea and refreshments
10.00-16.00 Village Hall
---

Situated in what was once the cottages' orchard, the NASUWT Kids Area is the perfect place for children to play, explore and have fun. With lots of activities to keep children of all ages happy and entertained all day long.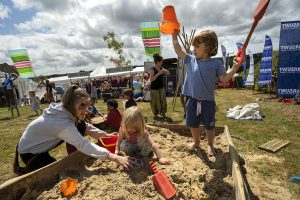 Plotgate crew will help you make your own delicious Pizzas using produce from their organic community supported agriculture farm.  
Woodcraft Folk provide an amazing range of exciting crafts and collaborative games for all ages to enjoy.

Drum It Up bringhigh energy drum circles and rhythm games.
With dizzyingly daft and dangerous stunts, Wolly the clown will amaze and delight children and adults of all ages, afterwards improve your own clowning skills with Wolly's circus skills workshops. 
Have a go at HapaZome an ancient Japanese art of transferring the natural pigments from leaves and flowers onto fabric or paper to create a botanical image by bashing them with a mallet!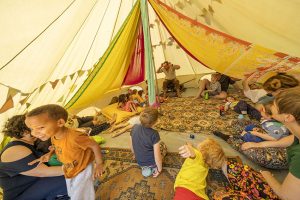 Join The Big Cardboard Build and let your imagination and creativity run wild.  
This year our storyteller Amy Douglas is a word-hoarder, a word-storer, a word-catcher and a word explorer.  She likes hide-and-seek, jumping in puddles, getting muddy, treasure hunts and has a favourite tree where she likes to sit with a book and an apple.You will find her in the bell tent telling her beautiful tales and when she is not around, she very kindly leaves a lovely chill-out space to shelter from the sun. 
The BearCat Swap Shop is bursting with a staggering array of clothes, toys, knick-knacks and lots more. Bring something along to swap to get something new to you or give a donation.

Don't forget to get your face painted for free by the amazingly talented artists from Diamond Faces provided by NASUWT who also sponsor theTolpuddle Kids' Area every year!  
So, come along, have fun, make some noise be part of this year's Kids Area! 
---
Radical Cinema
10.00- 13.00 Small Axe Short Film Competition
---
Fringe Tent
Authors speak about new books and signings – see board for times.
10:00 Jane Holgate Arise
11-12
Child Poverty
Chair: Jessica Pearce NEU Senior Regional Officer
Kevin Courtney NEU General Secretary
Paul Whiteman NAHT General Secretary
Ellie Harwood Child Poverty Action Group
Sinead McCarney Dorset Foodbank and Unite
Paul Gosling Dorset Headteacher
---
Unite Tent
10-11
The real story of country life: rural deprivation and the workers' fight for change. 
Chair Steve Leniec Unite agriculture sector chair and farm worker
John Burbidge and Ivan Monckton Unite rural campaigners
Steve Preddy Unite regional secretary
Morag Livingstone Filmmaker and author
---
Martyrs' Marquee Music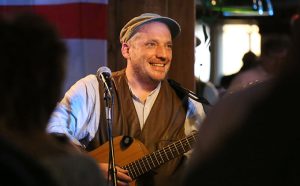 1100-1130 
Corky
Scrumpy and Western rap from the world's greatest agricultural hip-hop artist. Songs from the West Country Nation about cider, cheese, the farmgate price of milk, rural poverty, the housing crisis and skittles.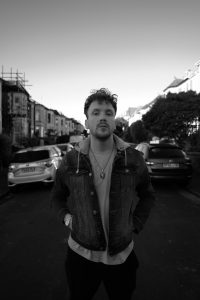 1140-1210 
Craft-D
Rapper, poet, educator and events producer from London, Craft-D now lives in Bristol. His debut single Letter to Corbyn reached #1 in the iTunes UK Hip-Hop chart, amassing hundreds of thousands of views across social media and entered in the official UK Downloads Chart. He is the UK Battle Rap Champion on Don't Flop, a title he won in 2019 and successfully defended in late 2021.
Craft-D has performed at major venues and festivals such as Ministry of Sound, 02 Academy Bristol,Roundhouse London, Camp Bestival, Shambala, Love Saves the Day, Cheltenham Literature Festival,Ledbury Poetry Festival, Sofar Sounds, and has featured on numerous radio stations including BBC1Xtra and BBC Radio Bristol. 
https://www.facebook.com/CraftDRap/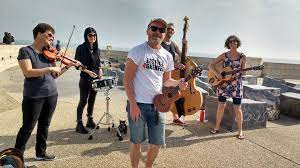 1220-1250  
BatsFeet 
A crypto-social ukeabilly protest folk goth collective from Worthing. We like otters 
https://www.facebook.com/BatsFeet/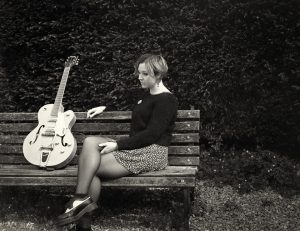 1300-1345 
Holly Carter 
A multi-instrumentalist from Bristol Holly Carter specialises in fingerstyle guitar and pedal steel. Her style comes from a musical upbringing steeped in the pioneers of folk and Americana. 
https://www.facebook.com/hollycartermusic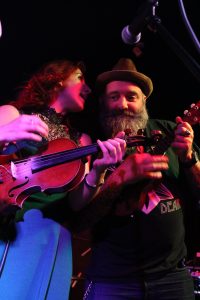 1545-1645  
Hannah Johns and Davey Malone 
Davey Malone and Hannah Johns blend modern and trad folk. Playing a mixture of self-penned material and choice covers with humorous undertones and a hint of punk sensibilities.
---
Wreath laying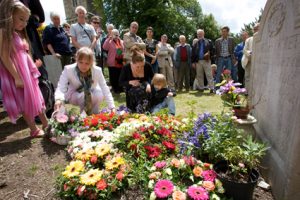 13.10 approx
St John's Parish Church
Anglican and Methodist representatives join in welcoming guests to lay wreaths on the grave of James Hammett, the only Martyr to return to Tolpuddle after transportation.
---
Main Stage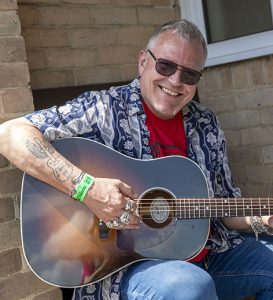 10.45 
Robb Johnson 
Widely recognised as one of the finest songwriters working in the UK today, Robb has been a feature of the Tolpuddle Festival for many years and hosts the Main Stage with his sharp wit and powerful songs.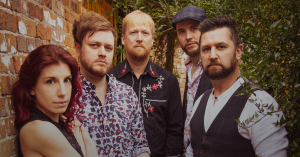 11.00-11.40 
The Leylines
The Leylines are a West Country based group with a genre-defying, violin and guitar driven sound that ranges from folk and indie to full blown festival rock. 
They play music that isn't quite folk, sort of punk but 100% heart-pounding revelry. This unique sound (combined with lyrics ranging from social issues, life on the road and partying with friends) launched the band into the heart of the UK live music community and made them firm favourites of the festival circuit. 
https://www.theleylinesmusic.co.uk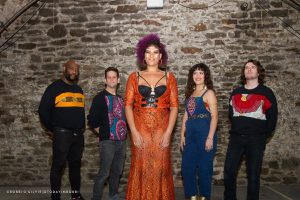 11.55-12.30
Ngaio
 and the Ngostics
Ngaio's performance inside the small Tolpuddle Martyrs Museum for the online festival in 2021 was stunning and we just had to have her back, this time with her band. A versatile artist, known for her bass-heavy DJ sets to her powerhouse vocal range, intricate jazz harmonies, African percussion and truth-laden spoken word. Ngaio confronts the politics of black bodies, whilst poetically unravelling her mixed-race identity. She challenges historical notions of what it means to be a black woman. 
https://www.facebook.com/ngaioamusic/ 
12.30-13.00
Speakers – Emma Sanders and Katy Foot to sign 
Hannah David South West TUC Chair and PCS Vice-President 
Tony Woodhouse Unite President 
Karin Smyth MP Shadow Minister for Health and Social Care 
Sue Ferns TUC President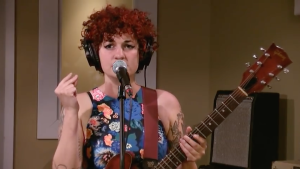 13.00-13.45
Carsie Blanton
A US artist that performed for the online festival in 2021 and we are delighted she will be with us in person. Carsie Blanton writes anthems for a world worth saving. Inspired by artists including Nina Simone and John Prine, Carsie delivers every song with an equal dose of moxie and mischief, bringing her audience together in joyful celebration of everything worth fighting for. 
14.00
PROCESSION
Join in the grand procession through the village and back. Accompanied by a range of marching bands. 
Robb Johnson plays while the march returns.
15.15
Nigel Costley South West TUC Regional Secretary 
Frances O'Grady TUC General Secretary 
Angela Rayner MP Labour Party Deputy Leader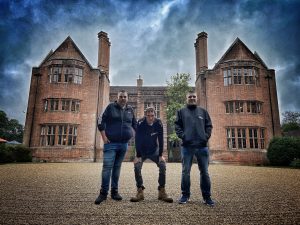 15.45-16.30  
Peat and Diesel
The songs won't make much sense to the average person. Peat and Diesel will take you on a journey to the heart of the Western Isles, where #peatlemania was born. 
https://www.peatanddiesel.band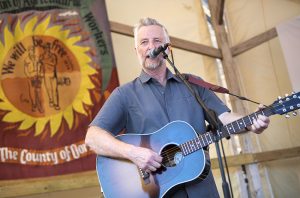 16.45-17.45 
Billy Bragg 
Billy has been on the road again recently with a great new album that reflects on the impact of lockdown and the importance of solidarity. He jumped at the chance to return to the Main Stage to see old friends and new at this year's Tolpuddle Martyrs Festival 
---
End of Festival Service
17.00   Methodist Chapel