1935
Soil from the grave of George Loveless in Canada was scattered on the grave of James Hammett.
1945
Communist Party member, Arthur Jordan became Dorset NUAW organiser and took charge of a demonstration in Dorchester.
1946
First rally since before the war heard from Sidney Dye MP for Norfolk. Whitechurch Silver Band led the march.
1947
Tablet outside Old Court, Dorchester was unveiled.
Some 6,000 people, including German prisoners of war, heard Alf Dann, NAUW General Secretary and Edwin Gooch MP, President. Hugh Dalton, Chancellor of the Exchequer, promised land workers a fair deal and George Chester from the TUC spoke.
1948
Festival began on the Thursday with Old Time Dane in Dorchester Corn Exchange. Friday saw a Variety Concert and Saturday a 200-strong march in Dorchester led by London Workers' Pipe Band. Events included gymnastics, horticultural show and sports. On Sunday Edwin Gooch MP and Alfred Dann spoke of the massive growth in the NUAW. 70,000 workers had joined that year, 500 in Dorset in the previous six months.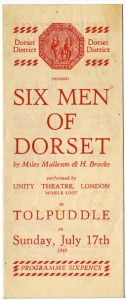 1949
The press reported "disturbances with communists". The Six Men of Dorset play was performed in London.
1950
Striking builders from the Naval Gunnery School in Portland heckled George Lindgren MP, Minister of Town and Country Planning
A play, Match Girls, was performed by Unity Theatre. Press reported attendance at 2,000.
1951
Unity Theatre staged a play about the peasants' revolt called The Word of a King. Tom Driberg MP for Malden and Fred Brow for the NUAW spoke to only 200 people.
1952
Labour leaders boycotted the event rather than share a platform with communists. Around 400 heard Edwin Gooch and Alfred Dann. Wyke Regis Band played.
1953
Sir Hartley Shawcross MP argued against nationalisation of the land, calling instead for a tax on land values. Harold Collinson, the new NUAW General Secretary, spoke.
1955
Jim Griffiths MP spoke. Dorset is hit by floods.
1956
Harold Collinson, NUAW General Secretary and Dr HM King MP, spoke. The TUC became custodians of the Old Court in Dorchester.
1958
Farm workers' rally in Weymouth.