1980
James Callaghan, Labour Leader, supported the campaign to save Dorset school dinners. Jack Boddy, General Secretary of the NUAAW, spoke.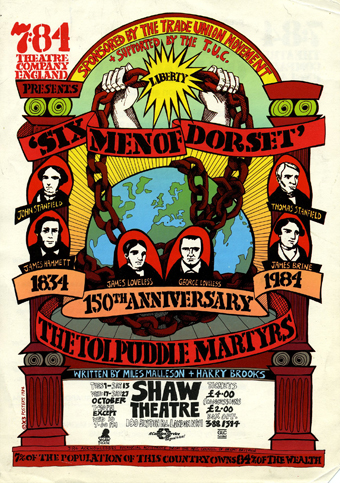 1981
Ron Hayward, General Secretary of the Labour Party and John Hose, President NUAAW, spoke.
1982
Jack Boddy and John Ashman, Regional Secretary, welcomed farm workers into the T&G. Campaign for £120 a week was launched.
1983
Michael Foot MP, Labour Leader, spoke. The People's March for Jobs was fighting Tory job cuts.
1984
150th anniversary saw a huge turn out, Neil Kinnock, Labour Leader, headed a list of top speakers. Len Murray TUC General Secretary was taken ill. A new plaque was unveiled at the Old Court, Dorchester. The campaign to restore unions rights at GCHQ is featured for the first time.
see more about the anniversary here: 1984 150th anniversary
1985
Roy Hattersley MP, Norman Willis, TUC General Secretary and Ron Todd, T&G General Secretary, spoke against the government's decision to abolish wages councils.
1986
Joan Maynard MP and Ken Gill, TUC President, spoke. The feature film Comrades was released.
1987
Gerald Kaufman MP and Norman Willis gave support to GCHQ and Wapping workers. The Wrong End of the World, a drama by Graham Padden was staged at the Salisbury Playhouse.
1988
Brenda Dean, SOGAT General Secretary, joined Ron Todd, Jack Jones, President of the Pensioners' Association, Norman Willis, Barry Leathwood, David Clark MP and Dick Robinson, a striking seaman.
1989
James Hammett's silver watch was stolen from museum. Gordon Brown MP,  Tony Christopher, TUC President and Peter Webster, T&G spoke.
1990
Bryan Gould MP and Ron Todd, T&G General Secretary, spoke.
1991
John Smith, Shadow Chancellor, and Rodney Bickerstaffe spoke.
1992
Tony Blair MP, Shadow Employment Minister, Bill Morris and Rodney
Bickerstaffe spoke.
1993
Margaret Beckett MP and Alan Tuffin, TUC President, spoke.
1994
Speakers: John Prescott MP, John Monks, TUC General Secretary and Jimmy Knapp, NUR and TUC President.
1995
David Blunkett MP, Bill Morris, John Monks, Leif Mills, BIFU and TUC President and Joan Maynard MP spoke.
1996
Oliver Trevett introduced "Ladies Day" with Pauline Green MEP and Leader of Socialist Group, Jean Corston MP, Margaret Prosser T&G and TUC President and Sue Longley T&G. Hilary Armstrong MP gave Methodist Address.