1960
Some 1,000 people heard Jim Griffiths MP call for a charter of rights for workers.

1962
Mr Crossman MP and Harold Collinson spoke.
1963
Arthur Jordon was sacked by the NUAW for his political views. Fred Cole took over the organisation.
Guy Barnet MP and Edwin Gooch spoke.
1964
Fred Peart MP spoke.
1965
Fred Peart MP, Minister of Agriculture, spoke.
1966
Michael Foot MP and Harold Collinson, General Secretary NUAAW, spoke.
1967
Gwyneth Dunwoody MP and Bert Hazell, President NUAAW spoke.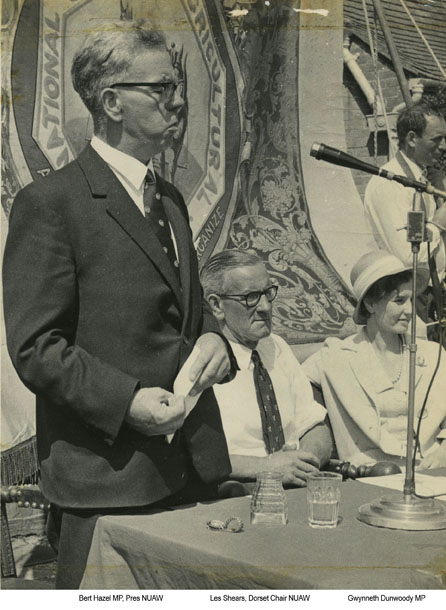 1968
James Callaghan MP, Home Secretary, called for stronger links between the Labour Government and the unions. Lord Wright, TUC President, had to cope with hecklers.
1969
Oliver Trevett as Vice-Chair of the Dorset County Committee opened the meeting with George Woodcock, General Secretary TUC.
1970
Vic Feather, General Secretary TUC, was heckled by unofficial strikers from Devon including Ottermill Switchgear. Reg Bottini, General Secretary NUAAW called for £18 a week for farm workers.
1971
Harold Wilson, Labour Leader, spoke.
1972
Barbara Castle was introduced as Labour's "pin-up girl" by Les Shears, Dorset NUAAW Chair. The Rally condemned the jailing of dockers.
1973
Jack Jones, General Secretary TGWU and Bert Hazell, President NUAAW, celebrated the victory of Chelsea Quilt workers from Barnstaple.
1974
Michael Foot MP, Minister for Employment, spoke.
1975
Dennis Healey, Chancellor of the Exchequer, spoke.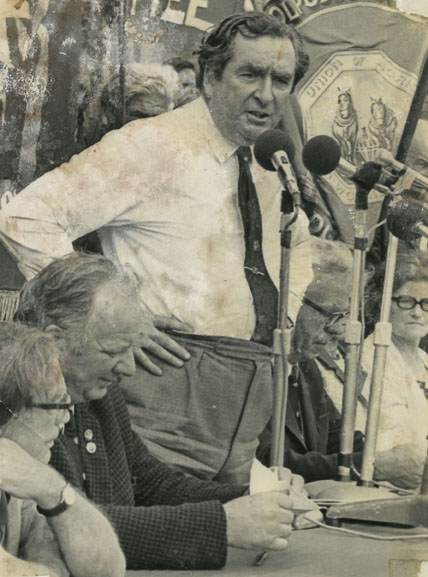 Dennis Healey speaks in 1975
1976
Norman Willis of the TUC spoke.
1977
Pickets at Grunwick were headline news. Shirley Williams MP, Minister for Education, was heckled as she called for moderation in pay demands. Bert Hazel called for a 50% pay rise for farm workers to give them £60 a week.
1978
John Silkin MP, Minister of Agriculture and Jack Boddy, General Secretary NUAAW, spoke.
1979
Len Murray, TUC General Secretary, attacked the Thatcher government's spending cuts. The press described the 5,000 strong rally as the "biggest ever".